Aberrant bole to woh insaan jo sidha nahi chal sakta, jisko error karna hi karna hai.
Ab joh chalne mein bhi error kare woh sidha aadmi kaise ho sakta hai? Who aberrant hi hoga na. in simple shabd, aberrant bole to abnormal, woh jo apni hi dhun pe chale.
Dictionary Kya Bolti Hai Aberrant ke Baare Mein:
1. Markedly different from an accepted norm. (adjective)
2. One whose behaviour departs substantially from the norm of a group. (noun)
English Mnemonic for Aberrant :
ABERRANT= AB+ERR+ANT
So aberrant for us is an ant that has erred (in between, err means to wander from a direct course or at random).
(Frankly speaking, the English mnemonic is better.)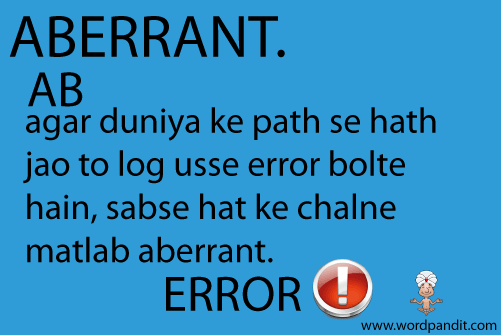 Want to explore more Hinglish Words?