Mnemonic tip for Canard:
CANARD! K-NARD ! K-NARAD! ACT LIKE NARAD MUNI!
How did Narad Muni act? Well, he did mislead people and his use of lies and deception was exceptional. That is what canards are: deceptive plays to fool people.
Meanings of Canard:
1. An unfounded or false, deliberately misleading story.
2. a. A short winglike control surface projecting from the fuselage of an aircraft, such as a space shuttle, mounted forward of the main wing and serving as a horizontal stabilizer.
b. An aircraft whose horizontal stabilizing surfaces are forward of the main wing.
Pronunciation: kuh-nahrd; Fr. ka-nar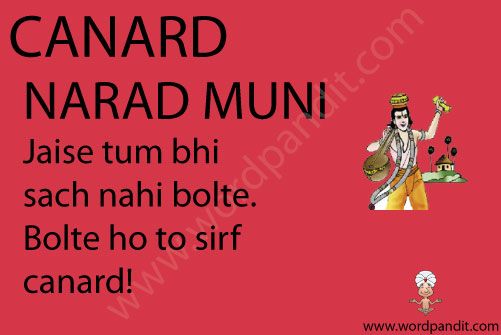 Want to explore more Hinglish Words?