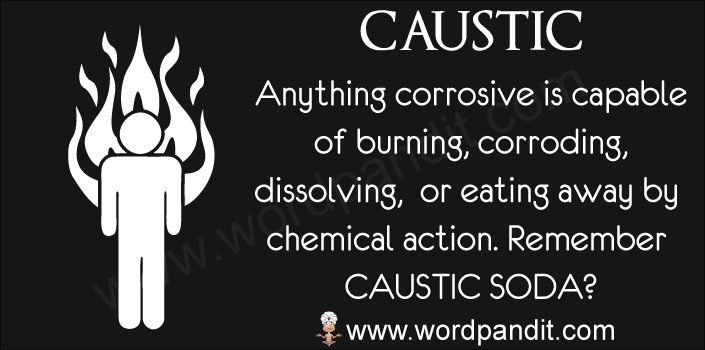 You may have heard a lot of times that breathing-in caustic products may cause irritation of the nose, throat, airways, and stomach. Caustic is something that destroys living tissue. It is corrosive and harmful.
PRONUNCIATION: kaw-stik
The dictionary meaning of caustic is as follows :
1. capable of burning, corroding, or destroying living tissue.
2. severely critical or sarcastic.
3. To be harsh or corrosive in tone.
4. Causing a burning or stinging sensation, as from intense emotion
MASTERS TIP TO LEARN CAUSTIC:
The stinging sunburn I got CAUSed an involuntary TICk in my arm.
Focus on the words in bold and by this you can easily remember caustic.
USAGE EXAMPLES OF CAUSTIC:
1. The caustic effect of Hydrochloric acid enhanced the speed of the reaction.
2. The workers in the mine developed respiratory illnesses due to their constant exposure to caustic dust particles.
3. Jim is despised for making blunt and caustic remarks in public.
4. "Most of all, there is caustic shame for my own stupidity" ( Scott Turow).
Want to explore more Words?