Important Current Affairs Today 14 May 2017: Your daily guide for General Knowledge Preparation
Dear Readers,
This article, Current Affairs Today 14 May 2017, includes all Major National, International, Business, and Sports events. A brief explanation of every current affair is provided to further enhance your general knowledge. Once you have gone through this article, that is, Current Affairs Today 14 May 2017, we would recommend to you to try 14 May 2017 Current affairs test.
Important Days and Dates
Mother's Day: May 14 (In the United States, Mother's Day is celebrated on the second Sunday of May.)
Mother's Day is a celebration honouring the mother of the family, as well as motherhood, maternal bonds, and the influence of mothers in society. It is celebrated on various days in many parts of the world, most commonly in the months of March or May.
Theme of 2017 Mother's Day – "Every Mother knows"
National News
1. UP government to form 'Maa' committees.
Uttar Pradesh government has decided to form 'Maa' committees to keep an eye on mid-day meals served to students in state-run primary schools.
It will be a committee of six mothers, from all sections of society, whose students are studying in that school.
From cleanliness in kitchen, to quality of food being served to children, they will keep an eye on minute details.
Chief minister of Uttar Pradesh – Yogi Adityanath
2. Kerala tops in 2017 Public Affairs Index.
As per recently released Public Affairs Index (PAI) 2017, Kerala has been declared as the State with the best governance in the country for a second straight year.
Kerala followed by Gujarat, Himachal Pradesh and Karnataka were at the top of the governance spectrum while Bihar stayed at the bottom.
The PAI aims to rank the states of India objectively in the field of governance based on various focus subjects and indicators and is an initiative of the Public Affairs Committee.
Chief minister of Kerala – Pinarayi Vijayan.
3. India's longest river bridge.
PM Modi will inaugurate India's longest river bridge, the 9.15-km-long Dhola-Sadiyabridge near the China border.
The bridge is situated over the Brahmaputra river at an aerial distance of around 100 km from the Chinese border.
The bridge's construction began in 2011 at a cost of Rs. 950 crore.
4. Full-body truck scanners to be installed at Indo-Pak border.
Full truck body scanners will soon be installed at the Integrated Check Post at Attari on Indo-Pak border which will facilitate India's bilateral trade with Pakistan and Afghanistan.
At present, every truck which goes to Pakistan and comes from the neighbouring country is manually checked with the help of sniffer dogs.
International News
1. North Korea fires ballistic missile.
This is the first provocative move from North Korea since South Korean President Moon Jae-in took office. Moon has advocated dialogue with North Korea to denuclearize.
The missile was launched on an unusually high trajectory, it flew to an altitude of 2,111.5 kilometres and travelled 787 kilometres before coming down in the Sea of Japan.
President of North Korea – Kim Jong-un
2. Nepal votes in first local elections in 20 years.
Voting was held on May 14 in Nepal's first local elections for two decades, a landmark moment in the country's fraught transition to democracy.
At least 49 lakh people are eligible to vote in the election in which nearly 50,000 candidates are contesting for the position of Mayor, Deputy Mayor, Ward Chairman and Ward Member in 283 municipalities.
Capital of Nepal – Kathmandu
Prime Minister of Nepal – Pushpa Kamal Dahal
Currency of Nepal – Nepalese rupee
3. China deploys AWACS aircraft near South China Sea.
China has deployed its latest aircraft, Airborne Warning And Control System (AWACS), to a military airbase near disputed South China Sea islands.
While Japan, Vietnam, the Philippines, and other nations all claim parts of the South China Sea as their own, China says that most of it has been within its territory for centuries.
Business News
1. Amul to sponsor New Zealand cricket team in Champions Trophy.
Amul will sponsor the New Zealand cricket team for the upcoming Champions Trophy in England.
Amul had earlier sponsored Netherlands in the 2011 Cricket World Cup.
Full form of Amul – Anand District Milk Producers Union Ltd.
Sports News
1. Ramudri Rao wins gold at the World Para Athletics Grand Prix.
Ramudri Someswara Rao won a gold medal in the men's 200-metre T44 event at the 2017 World Para Athletics Grand Prix in China.
Ramudri clocked 25.29 seconds in the finals, followed by silver-medallist Lal Vinay Kumar who clocked 26.15 seconds.
Someswara Rao had become the fastest Indian blade runner in the recently concluded 17th National Para Athletics Championship, held at Jaipur.
2. BajrangPunia wins the Gold medal at Asian Wrestling Championships.
Bajrang Punia defeated Lee Seung-chul of Korea 6-2 to win the gold medal in the men's 65 kg freestyle category at the Asian Wrestling Championship.
This is India's first gold at the tournament, after Olympians Sakshi Malik and Vinesh Phogat won silver medals earlier.
Bajrang Puniahas been mentored by Olympic bronze medallist Yogeshwar Dutt.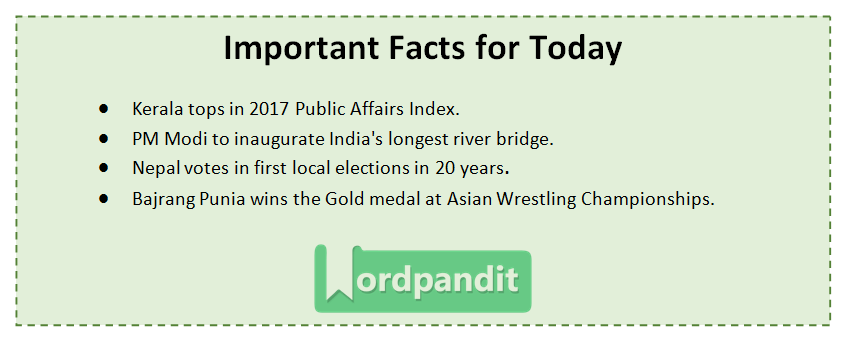 Related Posts