Important Current Affairs Today 15 May 2017: Your daily guide for General Knowledge Preparation
Dear Readers,
This article, Current Affairs Today 15 May 2017, includes all Major National, International, Business, and Sports events. A brief explanation of every current affair is provided to further enhance your general knowledge. Once you have gone through this article, that is, Current Affairs Today 15 May 2017, we would recommend to you to try 15 May 2017 Current affairs test.
Important Days and Dates
International Day of Families: May 15
Every year May 15 is celebrated as International Day of Families. The Day was proclaimed by the UN General Assembly in 1993 and reflects the importance the international community attaches to family.
Theme of 2017 International Day of Families – Families, education and well-being
National News
1. PM Modi launches 'Narmada Seva Mission.
PM Modi launched the Narmada Seva Mission for the conservation of Narmada River.
The event was held at Amarkantak in Anooppur district. Amarkantak is the place where the river originates.
The Narmada river conservation awareness campaign was launched in December last year.
Narmada is known as lifeline of Madhya Pradesh.
2. Railways to put up CCTVs at 983 stations using Nirbhaya fund.
The Indian Railways will install about 19,000 CCTVs at 983 stations at a cost of ₹500 crore using Nirbhaya fund.
The CCTV footages would be monitored by trained RPF personnel and the concerned station master will also be given access to the CCTV camera footage.
Besides stations, important trains will also be equipped with CCTVs.
The Centre had created Nirbhaya fund with ₹1,000 crore in 2013 after December 16 gang-rape incident.
3. RBI tells banks to Follow CERT-In advice.
RBI has asked banks to follow the instructions of government organisation CERT-In to prevent attack by ransomware, 'WannaCry', which has impacted various IT networks in over 150 countries.
RBI has also asked banks to not operate ATMs till their software is updated.
RBI has asked banks to update specific Windows patches on ATMs urgently.
International News
1. Panel dismisses impeachment petition against Rodrigo Duterte.
Philippine House of Representatives committee has dismissed an impeachment complaint against President Rodrigo Duterte for insufficiency in substance.
The failed proposal, filed by legislator Gary Alejano, called for Duterte'simpeachement for "culpable violation of the Constitution, betrayal of public trust, engaging in bribery and other crimes".
It also accuses Duterte of signing secret agreements with China in the territorial disputes between both countries in South China Sea that are detrimental to the Philippines, and of having undeclared bank accounts.
Capital of Philippine – Manila
2. Edouard Philippe named new French Prime Minister.
French President Emmanuel Macron has named centre right Edouard Philippe as his first Prime Minister.
The prime minister, who presides over government, will be instrumental in rallying support to help Macron form a parliamentary majority in next elections
The 46-year-old Philippe is a member of the Republicans party.
Capital of France – Paris
3. USA to sell chemical protective clothing to India.
The United States will be selling high-tech Joint Service Lightweight Integrated Suit Technology (JSLIST) protective clothing worth $75 million to India.
The package includes 38,034 M50 general purpose masks, 38,034 units of suits, trousers, gloves, boots and NBC bags; 854 aprons; 854 alternative aprons; 9,509 Quick Doff Hoods; and 114,102 M61 filters.
United States Secretary of Defence – James Mattis.
Business News
1. Zomato may acquire delivery startupRunnr for $20 million.
Zomato is reportedly in talks to acquire delivery startupRunnr for $20 million in an all-stock deal.
This move will help Zomato strengthen its food delivery business.
CEO of Zomato – Deepindergoyal
2. Jack Ma becomes China's richest person.
Chinese ecommerce giant Alibaba's Founder Jack Ma has surpassed real estate and entertainment tycoon, Wang Jianlin, to become China's richest person.
Jack Ma's fortune has gained from a more than one-third rise in Alibaba's share price.
Alibaba was established in 1999 and was led by Jack Ma.
CEO of Alibaba – Daniel Zhang
Sports News
1. Arjun Maini first Indian to win a GP3 race.
Arjun Maini has become the first Indian to win a GP3 series race.
Arjun is third in the championship after the first round of the eight round GP3 series.
He drives for Jenzer Motorsport.
GP3 Series is a motor racing feeder series that runs in support of the FIA Formula One World Championship and sister series Formula 2.
2. Nadal wins Madrid Masters title.
Rafael Nadal continued his unbeaten run on clay this season after winning the Madrid Masters for the fifth time by defeating Austria's Dominic Thiem.
Victory also moves Rafael Nadal above Roger Federer to fourth in the world rankings.
Rafael Nadal is from Spain and has been titled "The King of Clay".
3. India finish Asian Wrestling Championship with 10 medals
India's Sumit Malik claimed silver medal in the men's 125kg freestyle event on the concluding day of the Asian Wrestling Championship.
India finished with 10 medals, including one gold, five silver and four bronze at the Asian Wrestling Championship, bettering their tally of nine medals in the last edition at Bangkok.
The 2017 Asian Wrestling Championships was held at New Delhi in India.
Asian Wrestling Championships is the Wrestling Asian Championship organized by the Asian Associated Wrestling Committee.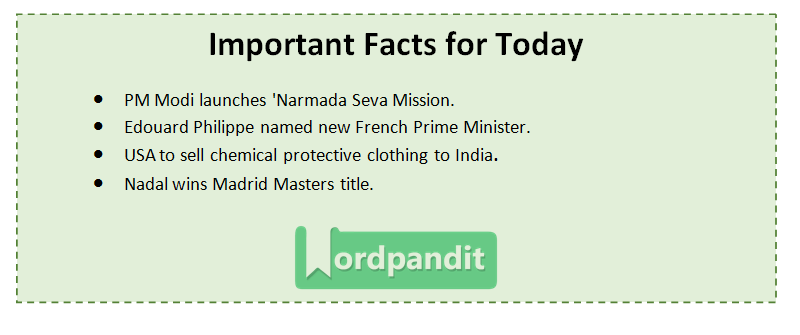 Related Posts