Important Current Affairs Today 19 May 2017: Your daily guide for General Knowledge Preparation
Dear Readers,
This article, Current Affairs Today 19 May 2017, includes all Major National, International, Business, and Sports events. A brief explanation of every current affair is provided to further enhance your general knowledge. Once you have gone through this article, that is, Current Affairs Today 19 May 2017, we would recommend to you to try 19 May 2017 Current affairs test.
National News
1. India's first womb transplant.
Doctors at a Pune hospital successfully conducted India's first womb transplant by transferring a woman's uterus to her 21-year-old daughter, who was unable to conceive a child.
The surgeons retrieved the uterus using a laparoscopic technique, which shortened the duration of the procedure, bringing it down from normal 12 hours to nine.
2. Kerala govt launched 'She Pad' scheme.
Kerala Chief Minister Pinarayi Vijayan has announced that the government will distribute sanitary pads to girls in all the schools in the state.
To ensure Genital hygeine the Kerala government is all set to implement the 'She Pad' scheme wherein sanitary pads will be made available to girls in all the schools in Kerala.
The system to dispose used pads without harming the environment will be set up as well. The total cost will be approximately Rs 30 crore for five years.
3. Dr. Harsh Vardhan gets additional charge of MoEF.
Minister of Earth Sciences and Science and Technology, Harsh Vardhan, has been given additional charge of the Ministry of Environment, Forest and Climate Change (MoEF) after the demise of Union Minister Anil Madhav Dave.
Dave was appointed as the Minister of State with an independent charge of MoEF in the Modi govt in 2016.
International News
1. Audioslave singer Chris Cornell passes away.
American musician Chris Cornell, known as the lead singer of bands Soundgarden and Audioslave, passed away aged 52 in Detroit.
The cause of his death hasn't been revealed yet.
He's also known for performing the theme song of 2006 James bond film 'Casino Royale'.
2. SIMBEX commenced in South China Sea.
SIMBEX, the 24th bilateral exercise involving Indian Navy and Republic of Singapore Navy has commenced in South China Sea.
Full form of SIMBEX – "Singapore-India Maritime Bilateral Exercises"
The exercise will be held from May 18, 2017 to May 24, 2017.
3. Indian-American wins NatGeo Bee contest.
Indian-American student, Pranay Varada has won the prestigious National Geographic Bee competition.
He will get $50,000 in scholarship.
Indian-Americans have won the National Geographic Bee competition for the last six consecutive years.
Business News
1. Paytm raises $1.4 billion from SoftBank in largest funding.
Paytm has raised $1.4 billion from SoftBank in India's largest funding round.
This is SoftBank's biggest investment in the Indian startup ecosystem till date.
The deal includes $400 million worth of shares that SoftBank will buy largely from Paytm's early investor SAIF Partners in a secondary transaction, and a minor stake from founder Vijay Shekhar Sharma.
2. General Motors stops selling cars in India.
General Motors will stop selling cars in India from the end of this year, drawing a line under two decades of battling in one of the world's most competitive markets.
General Motors has less than a one percent share of passenger car sales in India.
The company will instead focus on producing vehicles for export from India.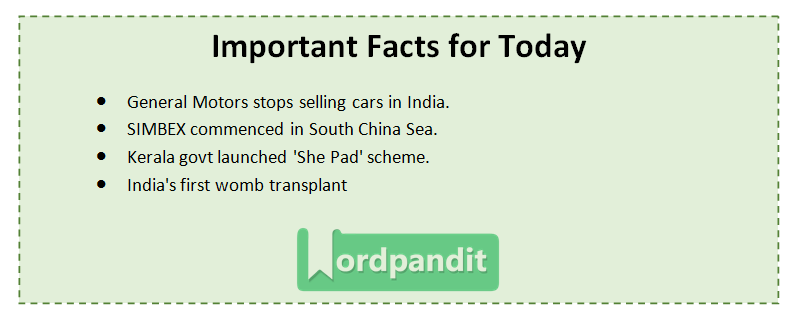 Related Posts