Daily Current Affairs 13 April 2017: Your guide for daily General Knowledge Preparation
Dear Readers,
This article, Daily Current Affairs 13 April 2017, includes all Major National, International, Business, and Sports events. A brief explanation of every current affair is provided to further enhance your general knowledge. Once you have gone through this article, that is, Daily Current Affairs 13 April 2017, we would recommend to you to try 13 April 2017 Current affairs test.
International:
Dusseldorf, Germany hosted the G20 Digital Ministerial Meet
The ministerial conference was held on the basis of the G20 Task Force on the digital economy established in G20 summit which was held in Hangzhou, China in 2016.
It came to a conclusion with adaptation of declaration on 'Shaping Digitalization for an Interconnected World'.
Canada to offer citizenship to Malala Yousafzai
Malala Yousafzai becomes the sixth person to receive honorary Canadian citizenship.
She was also the youngest person to speak to Canadian members of parliament and senators in a joint session at the age of 19.
National:
Australian PM Malcolm Turnbull arrives on a 4-day visit in New Delhi
Australian Prime Minister Malcolm Turnbull landed on Sunday for a four-day India visit from 9th-12thApril, 2017. It was Malcolm Turnbull's first visit to India after assuming office in 2015.
Six pacts were signed between India and Australia after comprehensive talks between PM Shri. Narendra Modi and visiting Australian PM Malcolm Turnbull in New Delhi.
Regional:
Government set to launch Rs 6000-crore 'SAMPADA' scheme for food processing sector
The Scheme for Agro-Marine Produce Processing and Development of Agro-Processing Clusters (SAMPADA) announced by the Union Food Processing Minister Ms. Harsimrat Kaur Badal will have a financial outlay of Rs.6000 crore and is set to be implemented by FY 2019-20.
Adarana was re-launched by Andhra Pradesh CM Mr. Chandrababu Naidu
The re-launch of 'Adarana', a scheme for improving traditional occupations includes modern tools, technology, marketing, and financial support that are for the artisans and also provides employment in the rural areas those pursuing traditional occupations to raise their income levels.
School in Andhra Pradesh to introduce 'Ammaku Vandanam'
This unique programme which will pay tribute to mothers by allowing the school children to take the blessings of their mothers and also do 'paada pooja' (washing her feet) which is rightly called Mother Worship. It will get a cost allocation of Rs. 2.50 crore
From 1st May onwards, Petrol and Diesel prices to change everyday
The oil giants Indian Oil Corp (IOC), Bharat Petroleum Corp Ltd (BPCL) and Hindustan Petroleum Corp Ltd (HPCL) which own nearly 58000 petrol pumps in the country have come together to launch this Pilot Project.
Now, Pump rates will reflect daily movement in international oil prices and rupee-US dollar fluctuations instead of using fortnightly average.
This project will first be implemented in selected cities like Puducherry, Vizag in Andhra Pradesh, Udaipur in Rajasthan, Jamshedpur in Jharkhand and Chandigarh and if successful in whole India.
Banking & Finance:
RBI gives a go ahead nod to Amazon for e-wallet in India
This approval from RBI will allow helping customers adopt digital payments at a large scale thereby contributing towards making India a less-cash economy.
On Amazon. in, Customers can now go cashless and enjoy quicker refunds, fast and easy checkouts with a secured shopping experience.
Business:
The 5th Global Cyber Range Lab was launched by CISCO in Gurugram
The US-based tech giant launched this lab in Haryana with an aim to train Indian firms and government agencies on real-world cyber attacks. National Cyber Security Coordinator Gulshan Rai inaugurated this facility.
Science & Technology:
New global maps of Earth at night released by NASA
The Satellite images of Earth at night which are referred to as "night lights" show the clearest and composed view of the patterns of human settlement spread across our planet.
NASA-NOAA Suomi National Polar-orbiting Partnership (NPP) satellite which was launched in 2011 observes every location of Earth twice within 24 hours.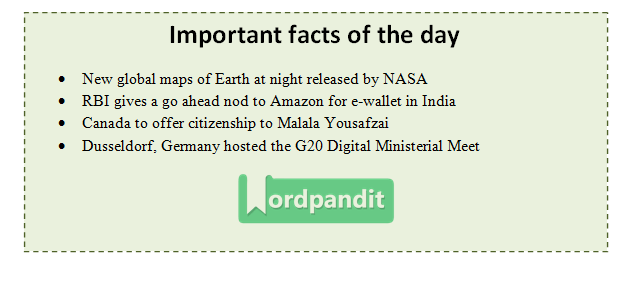 Related Posts