Daily Current Affairs 16 April 2017: Your guide for daily General Knowledge Preparation
Dear Readers,
This article, Daily Current Affairs 16 April 2017, includes all Major National, International, Business, and Sports events. A brief explanation of every current affair is provided to further enhance your general knowledge. Once you have gone through this article, that is, Daily Current Affairs 16 April 2017, we would recommend to you to try 16 April 2017 Current affairs test.
 International Affairs
Patrol ship delivered to Pakistan by China
A 600-tonne patrol ship, the third of its kind was handed by China over to Pakistan to safeguard the country's maritime interests.
This move is in line with both nations pushing forward with the CPEC project which will link the Pakistani city of Gwadar to China's Xinjiang via a vast network of railways and highways.
After launch, N-Korean missile blows up
A North Korean missile launch at 2121 GMT on April 15 was assessed by the US Defence Department and it confirmed that North Korea carried out a missile test, and said the launch failed "almost immediately".
National Affairs
Families of freedom fighters in Odisha felicitated by PM Modi
Prime Minister Narendra Modi was in Bhubaneswar, Odisha On April 16, 2017 where he felicitated the family members of 16 freedom fighters who were martyred during the Paika Rebellion.
Government will set up virtual museums at 50 places in the country to display the valour and remember the contributions of tribal communities were announced by the PM.
Rongali Bihu celebrated by Assam
The Rongali Bihu which marks the agricultural New Year is celebrated in the month of April which usually falls on 13th and 14th and is known  as a festival of Prosperity
During this festival, people in different parts of states take their cattle to the ponds and rivers where they give a formal bath and rub their bodies with 'Dighalati pat' (the leaf of a plant having medicinal value) which prevents away the flies and insects and also people put on new clothes, sing and dance that is called Manhu Bihu.
India's first privately run Railway station to function at Bhopal
In India's Railway history, Habibganj station in Bhopal becomes the first station that has been handed over to a Private firm to be operated and it will be developed in line with airport terminals but trains at the station will be controlled by the Railways.
Business
NSFDC and Development Commissioner Handloom sign MOU
The main objective of The MOU signed between NSFDC and the Development Commissioner (Handlooms) is to promote marketing and production of high value quality Handlooms products among Scheduled class weavers and to popularize the schemes through advertising and create awareness among people.
 MoU signed between Indian Academy of Highway engineers and UNSW
Indian academy of Highway Engineers and the University of New South Wales, Australia sign a MOU that will help bring the innovation in the transportation sector, to explore market opportunities for India and Australia and to be the World's first transportation centre which introduces innovation in technology for economic development.
Awards & Recognitions
'Cartier Women's Initiative Award' presented to Indian Engineer Tirupati Jain
Tirupati Jain who is an environmental engineer was presented with this honorable award for providing innovative solutions of water management to the women those working on farms and small farmers against flash floods and droughts.
18000 small farmers and 100000 of the rural poor people were benefitted by her Gujarat based company has implemented 232 systems in India.
San Francisco Film Festival honors Shah Rukh Khan
The 60th San Francisco International Film Festival (SFIFF) which was organised by San Francisco Film Society in USA honored Bollywood Superstar Shah Rukh Khan with a tribute.
About 200 films from over 50 countries are screened at the SFIFF which is organized every year for two weeks.
Science & Technology
Successful field test of new B61-12 nuclear bomb conducted by US
A test of a modification of the B61 atomic bomb was conducted by The National Nuclear security Administration (NNSA) and US Air force.
The major objective of conducting the test was to improve the reliability of its security systems and to extend the B61's operational life by upgrading its nuclear and non- nuclear components.
Sports
Singapore Open badminton won by Sai Praneeth
The Men's Single at Singapore Open Badminton championship was won by Sai Praneeth and after defeating K. Srikanth in Singapore, he becomes the first Indian to won a Super series title.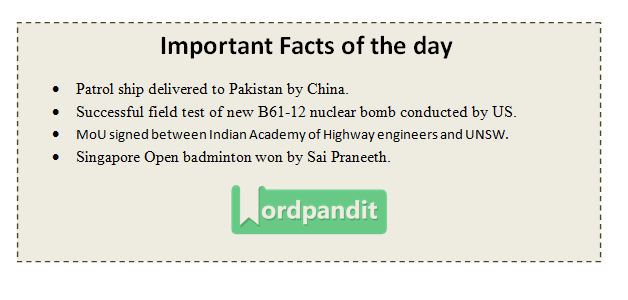 Related Posts