Daily Current Affairs 19 April 2017: Your guide for daily General Knowledge Preparation
Dear Readers,
This article, Daily Current Affairs 19 April 2017, includes all Major National, International, Business, and Sports events. A brief explanation of every current affair is provided to further enhance your general knowledge. Once you have gone through this article, that is, Daily Current Affairs 19 April 2017, we would recommend to you to try 19 April 2017 Current affairs test.
International Affairs
 Global FDI Confidence Index ranks India at 8th place
India jumps to 8th place in the 2017 A.T Kearney Foreign Direct Investment (FDI) Confidence Index.
India was ranked at 9th position in the 2016 edition of this index while US has topped the index for the fifth year in a row.
US President Donald Trump signs executive order to tighten H-1B visa programme
Donald Trump has signed an executive order to enforce and review of H-1B visa programme and has also mentioned it to the federal agencies to tighten the H-1B visa programme.
Indian IT companies are affected by this order because they send a huge number of software engineers to the US on H1-B visas.
Banking & Finance
 India's growth forecast trimmed to 7.2 per cent for 2017 by IMF
India's growth forecast for year 2017 has been cut down by 0.4 percentage points to 7.2 % in the latest World Economic Outlook (WEO) by the International Monetary Fund (IMF).
India's growth rate is expected to be 8% in the medium term, if reforms are carried out as per the plans and supply-side concerns are addressed.
Country's first CII-IGBC platinum rated project emerges in the form of ICICI Bank data centre
ICICI Bank Data Centre has become country's first Platinum rated project under IGBC and its main objective is to bring the Green Building movement in the country.
Tangible and intangible benefits would be provided by IGBC Green Data Centre Rating System which means tangible benefits include 20 to 25 per cent reduction in Power Usage Effectiveness and 25 to 30 per cent reduction in water consumption and Intangible benefits include enhanced excellent day lighting, air quality, health and well-being of the staff operating such facility.
REITs, InvITs bank's exposure capped at 10% by RBI
Investment up to 10 per cent of the unit capital of a Real Estate Investment Trust (REITs) or Infrastructure Investment Trusts (InvITs) has been allowed to the banks by the RBI.
The main objective is to help strengthen the cash-starved infrastructure sector by ordering the SEBI to keep regulations for REITs and InvITs and allow banks to invest in these schemes.
Business
A revised Mou of Rs 43129 crore Mou for Barmer refinery has been signed by HPCL and HPCL and Rajasthan Govt.
Memorandum of association is signed for oil refinery in Barmer district in which the state government will have 26 per cent stake in the refinery project while HPCL will have the rest shareholding.
In addition to the 43,129 crore, Rs 27,000 crore investment will be made in the refinery, oil field and petro-chemical complex.
Sports
10,000 runs scored by Chris Gayle in T20
Chris Gayle becomes first cricketer to score 10,000 runs in T20 and he accomplished this feat while playing for Royal Challengers Bangalore against Gujarat Lions in an Indian Premier League (IPL), 2017 match.
Gayle is the only cricketer in the 10,000 club in T20s as of now and No other batsman has crossed even 8,000 runs mark in T20s.
Historic Boston Marathon completed by Visually impaired Indian runner Sagar Baheti
India's Sagar Baheti became the first visually impaired Indian runner to complete the historic Boston Marathon on 17 April 2017.
The 31-year old runner completed a distance of 42.16 kilometers in just over four hours and finished the 121st Boston Marathon as one of 30000 runners.
Awards & Recognitions
Aniruddhan Vasudevan presented with Sahitya Academy Award is presented to for translation of Murugan's Maadhorubaagan
Aniruddhan Vasudevan has been chosen for Sahitya Academy award for his novel "One Part Woman", a translation of Perumal Murugan's controversial Tamil novel "Maadhorubaagan".
Prize money of Rs 50000 has been awarded to him.
Hindu youth from Pakistan selected for prestigious US award
Raj Kumar, a Pakistani Hindu youth has been selected for the prestigious 'Emerging Young Leaders Award' given by the US State Department for the positive role played by youngsters in building sustainable peace.
Along with Raj Kumar, 9 other youngsters from Malta, Sri Lanka, Afghanistan, Algeria, Tajikistan, Belgium, Vietnam, Peru and Israel have also been chosen for the 2nd edition of 'Emerging Young Leaders Award'
Obituary
Narayan Sanyal, a Top Maoist Leader passes Away
A top Maoist leader Narayan Sanyal who was also a Polit Bureau member of the CPI (Maoist) passed away on April 18, 2017.
Born in an affluent family in undivided Bengal's Bogra district, Sanyal played a key role in merger of Naxalite factions.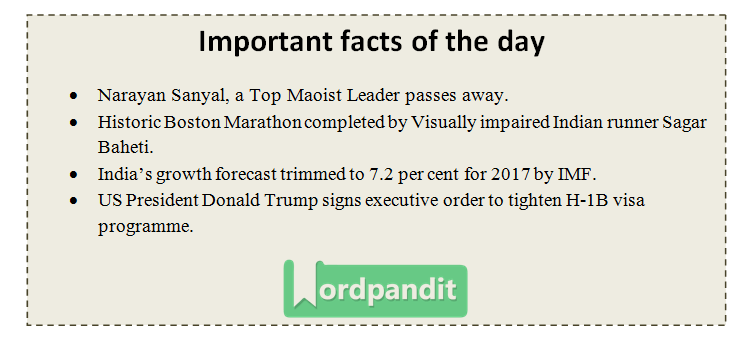 Related Posts