Daily Current Affairs 2 April 2017: Your guide for daily General Knowledge Preparation
Dear Readers,
This article, Daily Current Affairs 2 April 2017, includes all Major National, International, Business, and Sports events. A brief explanation of every current affair is provided to further enhance your general knowledge. Once you have gone through this article, that is, Daily Current Affairs 2 April 2017, we would recommend to you to try 2 April 2017 Current affairs test.
Important Days
World Autism Day today
Globally, Autism Awareness Day is observed on 2nd April every year by United Nations (UN) member countries to raise awareness about autism and problems faced by people suffering from it.
Autism Spectrum Disorder is an umbrella term for persons living with developmental disorders that impair communication which involves speaking, gesturing and listening and makes them have limited interests or repetitive behavior.
International Affairs:
Orders signed by Trump targeting 'cheaters'
US President Donald Trump has signed an executive order seeking a review of the massive trade deficit totaling more than USD 500 billion with 16 countries, including China and India which is widely seen to target China and following which he signed a second order that seeks to strictly enforce anti-dumping laws.
National Affairs
Govt. set to launch PowerTex India scheme for power loom sector
PowerTex India Scheme was launched on 2nd April 2017 at Bhiwandi in Thane district of Maharashtra by Union Textiles Minister, Ms. Smriti Irani. The scheme was simultaneously launched at 45 locations across India aims at development of power loom sector in India with a special focus on small power loom weavers
PowerTex India helpline was also launched for scheme related assistance. For nationwide publicity of scheme, a PowerTex van was also flagged off.
Prime Minister inaugurates Country's longest Chenani-Nashri All-weather road tunnel
India's longest Chenani-Nashri -All-weather road tunnel on the Jammu-Srinagar National Highway was inaugurated by the Prime Minister of India Shri Narendra Modi on April 2, 2017. The tunnel is among the longest highway tunnels in Asia.
The cost of building that tunnel was Rs 2519 crore and it is at an altitude of 1,200 meters above sea level. This tunnel is India's 1st and the world's 6th tunnel to have transverse ventilation system which provides fresh air to passengers.
Banking & Finance
SBI formed a merger with all its subsidiaries and entered in the league of top 50 Global Banks
State Bank of India (SBI) successfully merged its five associate banks (State Bank of Bikaner and Jaipur, State Bank of Hyderabad, State Bank of Mysore, State Bank of Patiala, State Bank of Travancore) and Bharatiya Mahila Bank On April 1, 2017.SBI entered the league of Top 50 Global Banks by this merger, in which it ranks 44th along with a balance sheet size of Rs 41 lakh crores along with the new logo.
Business
Full Multi-Crore Heavy Duty Satellite will be made by Private sector – ISRO
For the first time in the history, Indian Space Research Organization (ISRO) on April 2, 2017 assigned a task of making two Full Multi-Crore Heavy Duty Satellites to a private sector high-tech defense equipment supplier, Alpha Design Technologies,.A team of 70 engineers are working to make a flight ready satellite in the next six months. Company signs up a sum of Rs 400 crore to give India its first large private satellite.
Appointments & Resigns
Rajiv Kumar Chander is appointed as Permanent Representative to Geneva UN offices
Indian Foreign Service (IFS) officer from 1983 batch, Rajiv Kumar Chander, has been appointed the Ambassador and Permanent Representative of India to the UN office in Geneva (UNOG) on March 30th, 2017.He will succeed Ajit Kumar, from 1979 batch Indian Foreign Service (IFS).
Science & Technology
Madhya Pradesh launches MP E-Nagarpalika App to provide Municipal Services Online
The Madhya Pradesh government launches mobile application MP e-Nagarpalika by the Chief Minister of Madhya Pradesh Shivraj Singh Chouhan to provide various municipal services online. The app is the part of an e-nagarpalika project worth Rs 225-crore, under which all municipal services would be made available online on a unified web platform.
A total of 378 services which includes seeking building permission, birth, marriage and death certificates, online payment of property tax are provided through this app.
Sports
New Zealand Cricketer Grant Elliott announces Retirement from International cricket 
Grant Elliott- New Zealand all-rounder, has confirmed his retirement from international cricket on March 30, 2017 which was after playing his last T20 series against England. He registered his retirement officially after receiving a special presentation alongside with Nathan McCullum.
Jepkosgei holds three world records at Prague Half Marathon
By winning the Prague Half Marathon in Czech Republic on April 1, 2017,Joyciline Jepkosgei of Kenya broke three world records, defending champion Violah Jepchumba and Fancy Chemutai, both from Kenya who came 2nd and 3rd respectively .Tamirat Tola of Ethiopia won the race in 59:37,In men's race. Kenyan's Josphat Tanui and Geoffrey Yegon were 2nd and 3rd respectively.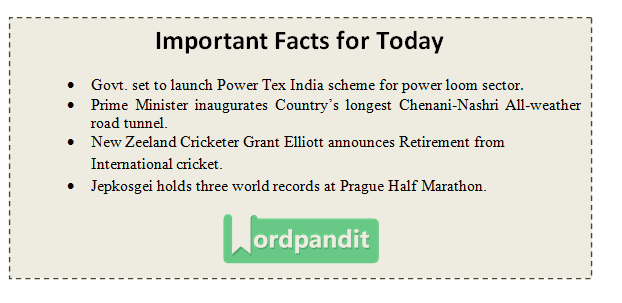 Related Posts