Daily Current Affairs 20 May 2017: Your guide for daily General Knowledge Preparation
Dear Readers,
This article, Daily Current Affairs 20 May 2017, includes all Major National, International, Business, and Sports events. A brief explanation of every current affair is provided to further enhance your general knowledge. Once you have gone through this article, that is, Daily Current Affairs 20 May 2017, we would recommend to you to try 20 May 2017 Current affairs test.
Important Days and Dates
World Metrology Day: May 20
World Metrology Day is an annual celebration of the signature of the Metre Convention on 20 May 1875 by representatives of 17 nations.
Theme of World Metrology Day 2017: "Measurements for transport"
National News
1. 4 Slab GST Service Tax Structure
The GST Council headed by finance Minister Jaitley has finalised a 4 slab service tax structure at the rates of 5, 12, 18 and 28% as against the single rate of 15% levied on all taxable services.
Healthcare and education will be exempt from the GST on services.
Chairman of GST council – ArunJaitley.
2. Chitale Committee on Desiltation of Ganga
Chitale committee on Desiltation of Ganga has recommended a slew of measures which include Study reach wise sediment transport processes and establish annual sediment budgets to guide de-silting activities.
The Union Ministry of Water Resources, River Development and Ganga Rejuvenation had constituted this 4 Member committee to prepare guidelines for desiltation of Ganga River last year.
This four member committee is headed by MadhavChitale and was constituted in July 2016.
3. PM Modi released a 2-part book series on Dr. M.S. Swaminathan.
Prime Minister Narendra Modi has released a two-part book series titled – M.S. Swaminathan: The Quest for a world without hunger
Praising the dedication and commitment of Prof. Swaminathan, the Prime Minister described him as a "KisanVaigyanik" – Farmers' Scientist.
Dr. M.S. Swaminathan is an eminent agricultural scientist known as the Father of the Green Revolution in India.
4. Air Marshal Pradhan appointed as DCIDS.
Air Marshal PN Pradhan took over as Deputy Chief of Integrated Defence Staff (Operations).
For his distinguished service of an exceptionally high order he was awarded AtiVishishtSeva Medal on 26 Jan 2014.
International News
1. Hassan Rouhani re-elected.
Hassan Rouhani won Iran's presidential election, beating EbrahimRaisi to begin his second four-year term in office.
Rouhani received close to 23 million votesin an election that had an unexpectedly high turnout of about 70%.
Voting time had been extended by five hours, until midnight. The extensions were due to "requests" and the "enthusiastic participation of people".
2. Rodrigo Duterte bans smoking in public.
Philippines president Rodrigo Duterte has signed an executive order banning smoking in public, creating one of the strictest anti-tobacco laws.
The ban carries a maximum penalty of 4 months in jail and fine of 5,000 pesos.
Capital of Philippines – Manila
Business News
1. Hello, the social network launched in India.
Hello has been founded by Orkut creator Orkut Buyukkokten.
The app is still in beta phase, claims to let users build "personas" based on their passions and interests.
A personality test on the app also helps users connect with other people that they are likely to get along with.
2. Ola launches Progressive Web App.
Progressive Web App is a lightweight mobile website that offers users, especially in smaller towns and cities, an app-like experience on simple smartphones.
Ola becomes the first ride hailing app in Asia Pacific region to use Progressive Web App technology.
Sports News
1. India's compound men's archery team wins Gold.
India's compound men's archery team comprising Abhishek Verma, Chinna Raju Srither and Amanjeet Singh won the Gold medal at the season's first World Cup in Shanghai.
Indian team defeated Colombia in finals while in Semi's India got better of US.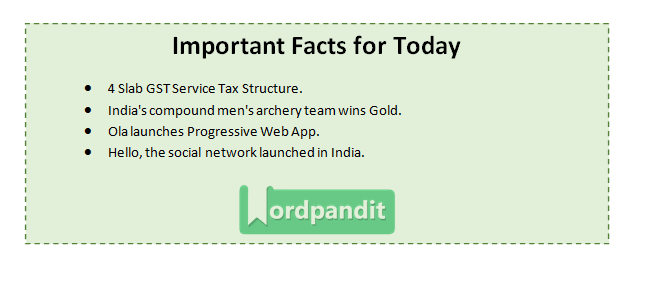 Related Posts