Daily Current Affairs 21 April 2017: Your guide for daily General Knowledge Preparation
Dear Readers,
This article, Daily Current Affairs 21 April 2017, includes all Major National, International, Business, and Sports events. A brief explanation of every current affair is provided to further enhance your general knowledge. Once you have gone through this article, that is, Daily Current Affairs 21 April 2017, we would recommend to you to try 21 April 2017 Current affairs test.
Important Days
Today Civil Services Day inaugurated by Union Home Minister
The two-day 11thCivil Services Day function which was organized by the Department of Administrative Reforms and Public Grievances (DARPG) under Ministry of Personnel, Public Grievances and Pensions was inaugurated by Union Home Minister Rajnath Singh on April 20, 2017 in New Delhi.
International Affairs
Time's 100 most influential people of 2017 includes Modi, Paytm founder
Prime Minister Narendra Modi and Paytm founder Vijay Shekhar Sharma along with Margot Robbie , an Australian actress have been featured in Time's 100 Most Influential People Of 2017. Also, Donald Trump has made to the list for the second time.
Sweeping changes to Citizenship laws announced by Australia
Broad changes to Citizenship laws for new applicants have been made by Australian Prime Minister Malcolm Turnbull with the applicants having to pass an English test which will focus purely on respect for women and children and to get the citizenship a person must be a permanent resident for at least four years, which is three years longer than the present requirement.
National Affairs
 Pro bono Services, Legal Aid Schemes, Nyaya Mitra launched by Law Minister Ravi Shankar Prasad
Three initiatives for providing legal aid to marginalized and vulnerable communities were launched by Union Law Minister, Ravi Shankar Prasad on April 20, 2017.
Pro bono legal service is a web-based initiative through which lawyers who want to volunteer for 'pro bono' services can register on the justice department website; Legal advice from expert panel of lawyers stationed at State Legal Services Centres (SLCA) can be availed by Tele Law litigants from marginalized communities by video conferencing through the common service centers (CSCs), 'Nyaya Mitra' Scheme which aims to reduce pendency in lower courts of selected districts.
To combat Antimicrobial Resistance (AMR), India develops National Action Plan
Union Health Minister J P Nadda announced the finalization of India's comprehensive and multi-sectoral National Action Plan to combat Antimicrobial Resistance (AMR) at the 'Inter-Ministerial Consultation on Antimicrobial Resistance (AMR) Containment' which was held on April 19, 2017 in New Delhi.
AMR is the evolutionary ability of microbes such virus, bacteria and parasite to become resistant to medicines which treat the diseases caused by them and based on this the 'Delhi Declaration' for collectively strategizing to contain AMR was signed by all the ministers present at the meeting.
 'Book Banks' to be set up in schools by Punjab Govt.
Punjab Govt. took a major decision to set up 'Book banks' in all schools to help the needy students who couldn't purchase the books every academic year and also to save the spending of considerable amount for books.
The Education department decided to initiate book banks in all schools of the state to prevent the paper wastage, precious time and money of the students said Punjab Education Minister Ms. Aruna Chaudhary.
First Mock Exercise on forest fire conducted by NDMA
First-of-its-kind State-level mock exercise on forest fire in Uttarakhand was conducted by the National Disaster Management Authority (NDMA) in a 3 day event and which started on 18th April 2017.
Teams like fire, forest, Army, health, police, National Disaster Response Force (NDRF) and State Disaster Response Force (SDRF) and civil defense coordinated the exercises.
Banking & Finance
MoU signed by RBI, Bank of Guyana for supervisory exchange of information
A MoU has been signed between The Reserve Bank of India (RBI) and the Bank of Guyana on "Supervisory Cooperation and Exchange of Supervisory Information".
The MoU was signed by Dr Gobind N. Ganga, Governor on behalf of Bank of Guyana and Dr Urjit R. Patel, Governor on behalf of Reserve Bank of India with an aim to promote greater co-operation and share supervisory information.
Business
Inter Governmental MOU for Defence signed by India and Republic of Korea
An Inter-governmental Memorandum of Understanding (MoU) for Defence Industry Co-operation in Shipbuilding has been signed by Secretary (Defence Production), Shri Ashok Kumar Gupta of India and Minister of Defence Acquisition and Programme Administration (DAPA) Chang Myoung-Jin of the Republic of Korea (RoK) with an aim to develop and strengthen defence industry co-operation between Republic of India and the Republic of Korea.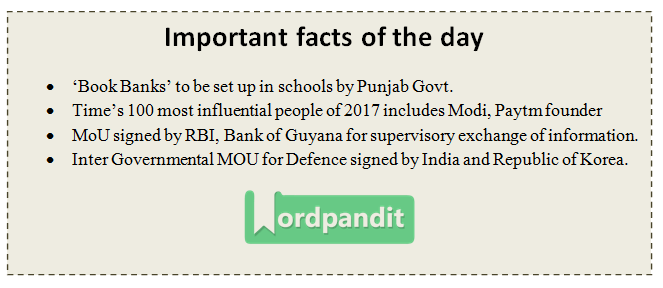 Related Posts