Daily Current Affairs 21 May 2017: Your guide for daily General Knowledge Preparation
Dear Readers,
This article, Daily Current Affairs 21 May 2017, includes all Major National, International, Business, and Sports events. A brief explanation of every current affair is provided to further enhance your general knowledge. Once you have gone through this article, that is, Daily Current Affairs 21 May 2017, we would recommend to you to try 21 May 2017 Current affairs test.
Important Days and Dates
National Anti-Terrorism day: May 21
Every year May 21 is observed as National Anti-Terrorism day as on this day,the former Prime Minister of India, Rajiv Gandhi, was assassinated by a suicide bomberwhile conducting an election campaign in Sriperumbudur in Tamil Nadu.
National News
1. NASA honours APJ Abdul Kalam
Scientists at NASA have named a new organism discovered by them after former president A P J Abdul Kalam.
The new organism, a form of a bacteria,has been found only on the International Space Station (ISS) and has not been found on earth.
The name of the bacterium is Solibacilluskalamii, the species name is after Dr Abdul Kalam and genus name is Solibacillus which is a spore forming bacteria.
2. First civilian from the Indian Navy to summit Mount Everest.
Brijmohan Sharma has become the first civilian from the Indian Navy to summit Mount Everest.
In his first attempt to conquer the Everest in 2015, an earthquake-induced avalanche hit the Everest Base Camp, thus obstructing his vision to complete the feat.
In 2016, BrijmohanSharma gained rookie entry in the world's toughest foot race, 'Badwater'.
Sharma successfully completed it and earned himself the title of the fastest Indian at the event.
3. Two Indian peacekeepers to be honoured posthumously with UN medal.
BrijeshThapa and Ravi Kumar will be honoured with a prestigious UN medal awarded posthumously for their courage and sacrifice in the line of duty.
BrijeshThapa served MONUSCO while Ravi Kumar served UNIFIL.
India is the largest cumulative troop contributor, having provided almost 2,00,000 troops
About 168 Indian troops have made the supreme sacrifice in the line of duty under the UN Flag.
4. Joint HADR Exercise Commences at Karwar.
The Annual Joint Humanitarian Assistance and Disaster Relief Exercise involving multiple agencies commenced at Naval Station Karwar.
Named as KARAVALI KARUNYA, the exercise involves both professional exchange and actual disaster response mechanisms which is set on a Tsunami disaster scenario.
International News
1. RCEP trade ministers to meet in Vietnam.
Trade ministers of 16 countries, including India will meet in Vietnam to discuss progress in the ongoing negotiations of proposed mega trade deal RCEP.
RCEP is a proposed free trade agreement between 10 member of ASEAN and 6 states with which ASEAN has existing free trade agreements.
Business News
1. Soft Banks Vision Fund raises $93 billion.
The world's largest Tech fund, backed by Japan's Sof tbank Group and Saudi Arabia's main sovereign wealth fund has raised over $93 billion.
The billions invested will be directed towards the tech industry, ranging from companies in artificial intelligence to robotics and cloud technology.
Soft Bank aims to raise $100 billion within next 6 months.
2. Yepme raises funds from Gokaldas Exports.
Yepme.com has raised an undisclosed amount in funding from listed garment exporter Gokaldas Exports Ltd.
The firm will use the funds for the operations of its UK entity, Yepme UK Plc which deals in fashion products exclusively for the international markets, mainly the US, Europe and the Middle East.
Sports News
1. Jamsenpa scales Everest twice in a week.
Anshu Jamsenpa reached the summit of Mount Everest for the second time in less than a week.
With this, she sets a women's record for a double ascent of the world's highest mountain in a single season.
She now has climbed Everest 5 times.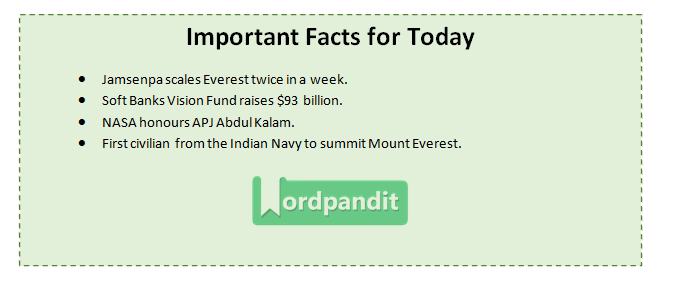 Related Posts