Daily Current Affairs 22 April 2017: Your guide for daily General Knowledge Preparation
Dear Readers,
This article, Daily Current Affairs 22 April 2017, includes all Major National, International, Business, and Sports events. A brief explanation of every current affair is provided to further enhance your general knowledge. Once you have gone through this article, that is, Daily Current Affairs 22 April 2017, we would recommend to you to try 22 April 2017 Current affairs test.
Important Days
International Earth Day celebrated on April 22 2017
Earth Day is celebrated every year on April 22 in more than 193 countries by over a billion people every year with an aim to encourage people to carry out activities that will benefit the Earth, such as recycling more, using solar power or plant trees and also aims to raise awareness that humans have a collective responsibility to promote harmony with nature and to balance the economic, social and environmental needs of present and future generation and the theme of Earth day is 2017 is Campaign is Environmental & Climate Literacy.
International Affairs
First Energy Forum between India and Indonesia held in Jakarta
For the first time, India Indonesia Energy Forum was held in Jakarta, Indonesia on April 20, 2017 and the Union Ministry of Petroleum and Natural Gas and the Indonesia's Ministry of Energy and Mineral Resources signed a Memorandum of Understanding (MoU) on cooperation in the field of Oil and Gas was signed at the energy forum.
Ignasius Jonan – Minister of Energy and Mineral Resources of Indonesia and Mr. Piyush Goyal – Union Minister of State (IC) for Power, Coal, New & Renewable Energy and Mines were part of this forum.
Pakistan leases its Gwadar port to Chinese company for 40 years
All the development work on the Gwadar port on the Arabian Sea which forms forms the southern Pakistan hub of a USD 57 billion China-Pakistan Economic Corridor (CPEC) of infrastructure and energy projects and it will be carried out by the China Overseas Port Holding Company.
The operations on Pakistan's Gwadar port will be handled by the Chinese company for a period of 40 years.
Counter-terrorism cooperation agreed to be strengthened by EU, India
Cooperation for counter-terrorism with India has been agreed to be strengthened by Federica Mogherini a European Union High Representative for Foreign Affairs and Security Policy.
Clean India, Namami Gange, Skill India, and Start-Up India, Smart Cities, renewable energy and next-generation infrastructure flagship programmes are set to get enhanced investments from EU companies.
National Affairs
One crore landmark reached by Geo-tagging of MGNREGA assets
(MGNREGA) Ministry of Rural Development achieved a milestone by successfully geotagging 1 crore assets under rural employment program and this exercise started from September 1, 2016 after completing the training programme in the last week of August, 2016 and will ultimately lead to more transparency and ultimately ensure accountability at ground level.
President of Nepal, Bidya Devi Bhandari visits India
The first female President of Nepal, Bidya Devi Bhandari, was on an official visit to India from 17th to 21st April, 2017 during which both sides assessed the implementation of ongoing cross-border connectivity projects including development of Terai roads, cross-border railway lines, integrated border check posts, and cross-border pipeline for carrying petroleum products which is first of its kind in South Asia and also reviewed bilateral energy cooperation, including development of 5,723 crore Arun 3 power project in Nepal and Muzaffarpur-Dhalkebar high capacity transmission line.
Business
TCS piped by RIL to become most-valued Indian company
Reliance Industries has overtaken Tata Group's crown jewel TCS and has regained its status as India's most valued firm by market capitalization and the shares of RIL have surged nearly 27 per cent while those of TCS have fallen by over 1 per cent.
CII signs MoUs with 3 Singapore Universities
CII and 3 Singapore Universities sign a MoU at the ASEAN-India Business Forum held in Singapore with a main objective of allowing the universities and International Enterprise (IE) Singaporeto tap into CII#39 networks of over 8,000 members to create overseas attachment opportunities for enrolled students.
Science & Technology
Mobile app Kilkari launched by Haryana to create awareness among pregnant women
A mobile-based application has been launched by the National Health Mission (NHM) in Haryana during the concluding day of the 'State-level Orientation Workshop' and had begun at the State Institute of Health and Family Welfare.
The main objective of this application is to to create awareness among pregnant women, parents and health workers and to deliver the importance of ante and post natal care, institutional delivery and immunization.
OBITUARY
Motorbike crash results in death of Mason
Germaine Mason, a British Olympic silver medalist has died at the age of 34 and was killed in a motorcycle crash on the Norman Manley highway in Jamaica and fell off from his bike on the Norman Manley highway in East Kingston and died.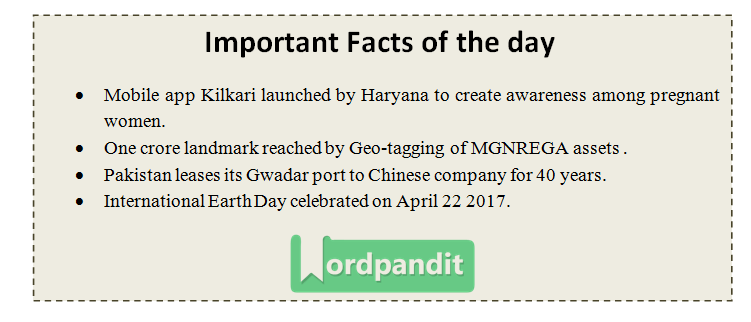 Related Posts