Daily Current Affairs 24 May 2017: Your guide for daily General Knowledge Preparation
Dear Readers,
This article, Daily Current Affairs 24 May 2017, includes all Major National, International, Business, and Sports events. A brief explanation of every current affair is provided to further enhance your general knowledge. Once you have gone through this article, that is, Daily Current Affairs 24 May 2017, we would recommend to you to try 24 May 2017 Current affairs test.
National News
1. Cabinet approves abolition of 25-year-old FIPB.
The Union Cabinet has approved abolition of foreign investment regulator the Foreign Investment Promotion Board.
FIPB is the inter-ministerial body or a single window clearance mechanism for applications on foreign direct investment in India in sectors under the government approval route.
FIPB will be replaced by a new mechanism under which the proposals will be approved by the ministries concerned as per the standard operating procedure approved by the Cabinet.
FIPB was constituted under the Prime Minister's Office following economic liberalisation in the early 1990s.
2. Swachh Bharat App Launched in National Museum.
"Swachh Bharat App" has been launched in National Museum under Ministry of Culture by the Minister of State (I/C) for Culture & Tourism Dr. Mahesh Sharma.
The main focus of this Swachh Bharat App" is to basically involve people actively to become part of Swachh Bharat Abhiyan.
The App will be monitored by the Ministry of Culture and will play an important role in cultivating the significance of cleanliness to the citizens.
Swachh Bharat Mission was launched on 2nd October 2014 with the aim to achieve the vision of a 'Clean India' by 2nd October 2019.
3. Karnataka child marriage Bill finally gets President's nod.
President Pranab Mukherjee has given his assent to the Prohibition of Child Marriage (Karnataka amendment) Bill, 2016.
The state government's amendment to the Karnataka Prohibition of Child Marriage Act, 2006, was based on recommendations made by a 2011 committee headed by former Supreme Court judge Shivaraj V Patil.
The amended Bill seeks to ensure zero tolerance towards child marriage, granting powers to policemen and enhancing penalties for those attending wedding ceremonies of minors.
Chief Minister of Karnataka –Siddaramaiah
4. IIT-KGP signs MoU with Madhya Pradesh.
 IIT Kharagpur's Rekhi Centre of Excellence for the Science of Happiness has signed an MoU with Madhya Pradesh government to collaborate on the development of a Happiness Index for measuring the well-being of the people of the state.
IIT-KGP will develop the index and analyse data collected by the state government to assess the level of happiness and chalk out recommendations that can be used to enhance happiness.
IIT-KGP will also develop an online screening and assessment system in order to screen and identify suitable volunteers from the database who have offered to be part of the collaborative exercise.
Chief Minister of Madhya Pradesh – Shivraj Singh Chouhan
International News
1. Taiwan court first in Asia to recognise gay marriage.
Taiwan's constitutional court has that same-sex couples have the right to legally marry.
Thisis first such ruling in Asia.
Capital of Taiwan – Taipei
President of Taiwan – Tsai Ing-wen
2. Moody's downgrades china.
Rating agency Moody's has downgraded China's long-term local and foreign currency issuer ratings by one notch to an A1 rating from AA3.
It was the first time the agency has downgraded China since 1989.
The ratings agency also changed its outlook for China to stable from negative.
The downgrade could raise the cost of borrowing for the Chinese government.
3. World's largest aircraft completes test flight.
A massive airship dubbed the Air lander 10 recently completed a successful test flight by flying over 180 minutes to test the aircraft's handling, improved landing technology and other features.
Air lander 10 combines technology from airplanes, helicopters and airships.
It is designed to stay aloft at altitudes of up to 20,000 feet for upto 5 days.
Hybrid Air Vehicles has built this giant aircraft.
Business News
1. Federal Bank launches 'Selfie'.
Federal Bank, in association with Geojit, has launched a new trading platform called "Selfie" for customers.
The app provides a uniform experience across multiple platforms and devices and an advanced charting platform that enables users to trade directly from charts.
CEO of Federal Bank – Shyam Srinivasan
Tagline of Federal Bank – Your Perfect Banking Partner
Sports News
1. Ashwin named best international cricketer of the year.
Ravichandran Ashwin has won the coveted International Cricketer of the Year award at the CEAT Cricket Rating (CCR) International awards 2017.
Ashwin has taken 99 wickets in the past 12 months.
Ashwin's performance over last one year has been brilliant and has helped Indian team win 10 out 13 test played at home.
Due to Hernia injury Ashwin was ruled out of IPL.
2. Man United clinch maiden Europa League title.
Manchester United defeated Dutch side Ajax 2-0 to win their maiden Europa League.
With the win, United automatically qualify for the next season's Champions League despite finishing sixth in the Premier League points table.
2016–17 Premier League was won by Chelsea.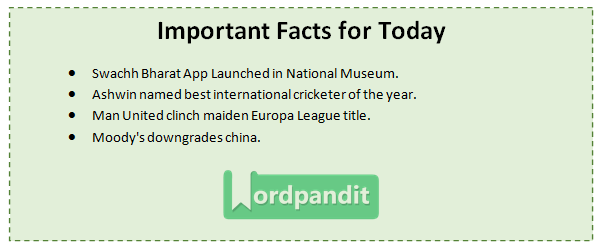 Related Posts