Daily Current Affairs 26 March 2018: Your guide for daily General Knowledge Preparation
Dear Readers,
This post contains important current affairs of 26 March 2018. It includes all Major National, International, Business and Sports related current affairs of 26 March 2018. A brief explanation of every current affair is provided to further enhance your general knowledge. Once you have gone through these current affairs we would recommend to you to try 26 March 2018 Current affairs test.
National News
1.World's oldest city Varanasi goes 'Wireless'.
86 years after the city got electricity, overhead power cables in world's oldest city 'Varanasi' is being dismantled after a project to lay underground lines over 16 sq-km has been finally completed.
Laying cables for 50,000 consumers through the serpentine lanes and congested markets in one off the world's oldest cities was quite a challenge for Powergrid, the company conducting the integrated power development scheme(IPDS) project.
2.Asia's largest tulip garden in Srinagar opens for visitors.
Srinagar's Indira Gandhi Memorial Tulip Garden, Asia's largest tulip garden, was opened for visitors on Sunday.
Apart from the tulips, 40,000 hyacinth bulbs have also been planted.
3.President Kovind lays foundation stone of 5 National Highway Projects in Varanasi.
During a one day visit to Uttar Pradesh, President Ram Nath Kovind visited Varanasi and laid the foundation stone of five projects of the National Highway Authority of India.
It includes second phase of outer ring of the city and four-lane roads between Varanasi and Rewa in Madhya Pradesh.
4.'Print Biennale India 2018' inaugurated at New Delhi.
The country's National Academy of Art, the Lalit Kala Academi hosted the first-ever International Print Biennale in the country with a record number of 17 countries taking part in it.
The first-ever International Exhibition of Graphic Prints 'Print Biennale India 2018' opened, at the Rabindra Bhavan Galleries of the Lalit Kala Akademi in New Delhi.
International News
1.India becomes 3rd largest electricity producer in the world.
India has become 3rd largest electricity producer in the world as its electricity production grew 34% over seven years to 2017.
The country now produces more energy than Japan and Russia, which had 27% and 8.77% more electricity generation capacity installed, respectively, than India 7 years ago. The top producers are China and USA is on the second spot.
2. India becomes 4th largest auto market in the world.
India has overtaken Germany to become the fourth largest automobile market in the world, according to the latest global data.
Automobile sales, including passenger and commercial vehicles, in Asia's third-largest economy, grew 9.5%.
3.World's largest cruise ship 'Symphony of the Seas' sets sail.
The world's biggest cruise-liner, Symphony of the Seas, has left the shipyard of Saint-Nazaire in France to embark on its maiden voyage in the Mediterranean.
French shipbuilder STX handed over to US giant Royal Caribbean International.
4.SpaceX rocket created 900km wide hole in Earth's ionosphere.
Researchers have revealed that Elon Musk-led startup SpaceX's Falcon 9 rocket launched last year created a 900km wide hole in the Earth's ionosphere which lasted for about three hours.
The launch probably caused a 1 meter error in GPS navigation programmes, researchers said.
Business News
1.Indian, Chinese firms sign agri deals worth $2.36 billion.
Indian and Chinese companies signed commercial deals linked to agriculture worth nearly $2.36 billion.
The bank's board had approved the proposed merger in December 2016.
2.No five consecutive holidays for banks from March 29.
The All India Bank Officers' Confederation has said that banks will not remain closed for five continuous days starting from Thursday, March 29.
It said the banks will work on Saturday(March 31), as it is the fifth Saturday of the month.
3.Indians sent record $1.2 billion abroad in January.
According to RBI data, the remittances sent overseas by Indians in January more than doubled from a year earlier to a record $1.2 billion.
Gifts, maintenance of relatives abroad, travel and study accounted for more than 90% of the total outflows.
Sports News
1.Anish Bhanwala wins gold in ISSF Junior World Cup.
India's 15-year-old shooter Anish Bhanwala won a gold medal at the ISSF Junior World Cup in the 25 meter rapid fire pistol event in Sydney. It was India's third gold at the event.
India is now placed second in the overall standings with 15 medals, comprising six gold, three silver and six bronze, behind China.
2.Pankaj Advani wins Asian Billiards Championships Title.
Pankaj Advani defended his Asian Billiards Championships title by demolishing his practice partner B Bhaskar 6-1 in the summit clash in Yangon, Myanmar. With this win, Advani remains the reigning Indian, Asian and world champion in billiards for 2017-18.
India's Amee Kamani won the Asian Women's Snooker title by blanking her Thai opponent Siripaporn Nuanthakhamjan 3-0.
3.India U-16 win Hong Kong Football Tournament.
The India U-16 team emerged champions in the Jockey Cup International Youth Invitational Football Tournament with a victory over Hong Kong U-17 in the final in Hong Kong.
The tournament was an U-17 event where India fielded their U-16 National Team. This was the team's third consecutive victory in as many days. The team was coached by Bibiano Fernandes.
Try some Quiz Questions now: Current Affairs Quiz, 26 March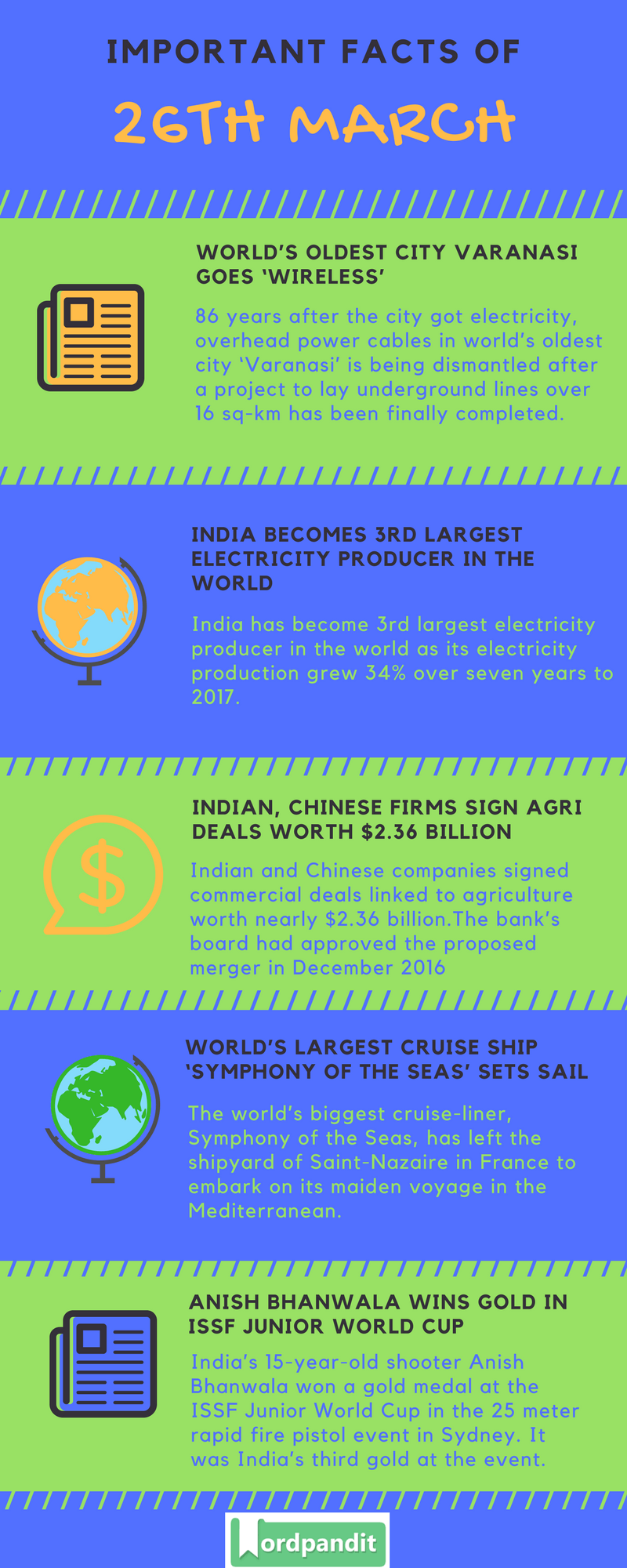 Related Posts