Daily Current Affairs 26 May 2017: Your guide for daily General Knowledge Preparation
Dear Readers,
This article, Daily Current Affairs 26 May 2017, includes all Major National, International, Business, and Sports events. A brief explanation of every current affair is provided to further enhance your general knowledge. Once you have gone through this article, that is, Daily Current Affairs 26 May 2017, we would recommend to you to try 26 May 2017 Current affairs test.
National News
1. PM Modi inaugurates India's longest bridge.
Prime Minister Narendra Modi inaugurated 9.15-km India's longest bridge in Assam.
The Bridge is built over the river Lohit, which is a tributary of the Brahmaputra.
The bridge is capable of bearing the weight of a 60-tonne battle tank.
Modi announced that the bridge will be named after Dr Bhupen Hazarika, a noted playback singer, lyricist, musician, poet, and filmmaker from Assam
2. No hookah services in smoking zones.
Government has made an amendment to the rules pertaining to smoking in public.
The move is aimed at fixing a loophole in the rules that stated "only smoking and no other services shall be allowed" in smoking areas, which was being exploited by some hotel and restaurant owners to offer hookah services.
Hotels, restaurants and airports will now have to display a board (60×30 cm) outside the smoking zones mentioning smoking is injurious to the health of both smokers and non-smokers.

3. India retains world's highest FDI crown.
India has retained its top rank of being the world's premier greenfield FDI investment destination for the second consecutive year.
India has remained ahead of China and the US as far as FDI inflows were concerned in 2016.
China has overtaken the US to become the second biggest country for FDI.
4. Government tweaks start-up definition.
The government has introduced changes to the start-up definition.
According to the new definition an entity shall be considered as a start-up if its turnover is less than Rs. 25 crore which remains unchanged and has not completed seven years from the date of its incorporation/registration.
In case of start-ups in the biotechnology sector, the period shall be up to 10 years.
The process of recognition as a start-up would be done through an online application made over the mobile app/portal set up by the DIPP.
 
International News
1. Toni Morrison honoured by Authors Guild.
The Authors Guild has honoured Nobel literature laureate Toni Morrison at its 25th annual gala.
Morrison won the Pulitzer Prize and the American Book Award in 1988 for Beloved.

2. Mark Zuckerberg gets honorary degree from Harvard.
Mark Zuckerberg received an honorary doctorate degree from Harvard
He received the degree 13 years after dropping out from the University.
Facebook was launched on February 4, 2004, by Mark Zuckerberg, along with fellow Harvard College students and roommates, Eduardo Saverin, Andrew McCollum, Dustin Moskovitz, and Chris Hughes.
Business News
1. Government has selected 5 Merchant bankers for IOC stake sale.
Government has selected five merchant bankers to manage 3% stake sale in Indian Oil Corporation.
Government currently holds 58.28 per cent stake in Indian Oil Corporation.
Goldman Sachs, Citigroup, Deutsche Equities, SBI Capital Markets and ICICI Securities are the bank that are selected.
2. HDFC among top 10 consumer financial services companies globally.
HDFC has be named among the top 10 consumer financial services companies in the world.
HDFC was ranked seventh on the list with profits of $1.6 billion.
It is the only Indian company to be named among the top 10 consumer financial services.
American Express topped the list followed by Capital One Financial and Visa.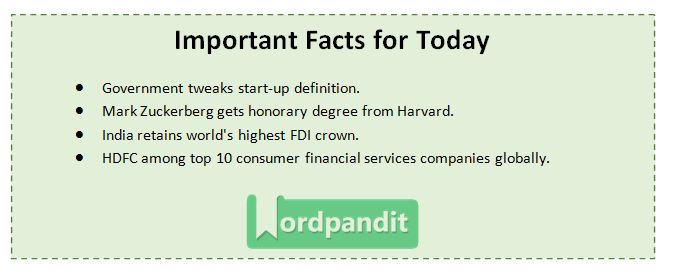 Related Posts