Daily Current Affairs 28 May 2017: Your guide for daily General Knowledge Preparation
Dear Readers,
This article, Daily Current Affairs 28 May 2017, includes all Major National, International, Business, and Sports events. A brief explanation of every current affair is provided to further enhance your general knowledge. Once you have gone through this article, that is, Daily Current Affairs 28 May 2017, we would recommend to you to try 28 May 2017 Current affairs test.
Important Days and Dates
Menstrual hygiene day: May 28
Every year May 28 is observed as Menstrual hygiene dayInternational Day of Families. It aims to break taboos and raise awareness about the importance of good menstrual hygiene management for women and adolescent girls worldwide.It was initiated by the German based NGO WASH United in 2014.
Theme of 2017 Menstrual hygiene day – Education about Menstruation Changes Everything
National News
1. India's first three cases of Zika virus reported.
World Health Organization has confirmed India's first three cases of Zika virus infections.
The first three cases of the Zika virus has been detected in Ahmedabad, Gujarat.
The virus is transmitted by aedes aegypti mosquito.
2. India's tax laws second most complex in Asia Pacific.
According to a Deloitte survey, Indian tax laws are perceived to be second most complex in the Asia Pacific region.
China tops the index while Japan, Australia, Indonesia and South Korea trail India in the complexity index.
According to survey while developed markets have the most consistent tax regime, in India, China and Indonesia, it has become less predictable.
The report all said that GST will reduce complexity in tax environment by eliminating multiple taxes while improving trade and commerce.
3. Odisha's biggest integrated steel plant commissioned.
Odisha's biggest integrated steel plantwas made operational with the commissioning of the country's largest blast furnace.
The plant is owned by Jindal Steel and Power Ltd.
The plant is expected to provide direct employment to around 30,000 people and indirect jobs to many others.
The plant has been setup at an investment of about Rs 33,000 crore.
CEO of JSPL – Ravi Uppal
 
International News
1. Gregg Allman passed away.
Allman Brothers Band Co-founder Gregg Allman passed away.
Allman played a key role in pioneering Southern rock music in the 1970s.
"My Cross to Bear" is his autobiography.
He has received several Grammys and was inducted into the Rock and Roll Hall of Fame and the Georgia Music Hall of Fame.
2. Construction begins on world's largest telescope.
Construction on world's largest telescope has begun in Chile.
European Extremely Large Telescope, which when completed will be the world's largest optical telescope.
It is located on a 3,000-meter-high mountain in the middle of the Atacama Desert.
It is expected to begin its operations by 2024.
3. US to carry out first ICBM intercept test.
United States will test an existing missile defense system to try to intercept an intercontinental ballistic missile.
This is the first time the United States will try to intercept an ICBM.
The system has carried out successful intercepts in nine out of 17 attempts.
However interceptor has succeeded only once in the last four attempts.
Business News
1. IOC becomes India's most profitable PSU.
Indian Oil Corp has overtaken Oil and Natural Gas Corp to become India's most PSU.
IOC posted a 70 per cent jump in net profit.
Reliance Industries retained the crown of being India's most profitable company followed by TCS.
Chairman of IOC – B. Ashok
 
Sports News
1. Indian fencer wins gold.
Indian fencer CA Bhavani Devi has won a gold medal in the Tournoi Satellite Fencing Championship held in Iceland.
Bhavani Devi has become the first Indian to win a gold medal in an international fencing event.
She defeated Great Britain's Sarah Jane Hampson 15-13 on points to win the gold.
2. Arsenal wins FA Cup.
Arsenal defeated Chelsea 2-1 to win the FA Cup title.
This was Arsenal's 13th FA Cup title, the most by any team.
Manager of Arsenal – Arsène Wenger.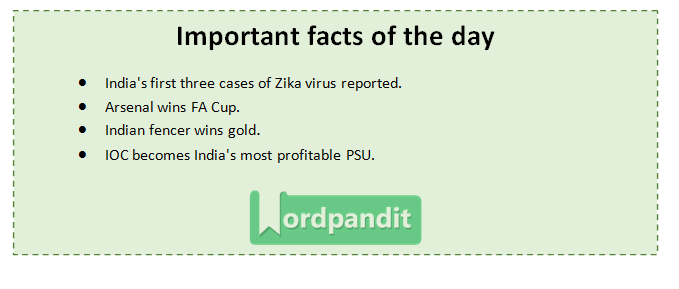 Related Posts