Daily Current Affairs 5 April 2017: Your guide for daily General Knowledge Preparation
Dear Readers,
This article, Daily Current Affairs 5 April 2017, includes all Major National, International, Business, and Sports events. A brief explanation of every current affair is provided to further enhance your general knowledge. Once you have gone through this article, that is, Daily Current Affairs 5 April 2017, we would recommend to you to try 5 April 2017 Current affairs test.
Important Days
54thNational Maritime Day Celebrated on April 5 2017
54th National Maritime Day is observed on 5th April 2017 in commemoration of the maiden voyage of the first Indian Vessel 'S. S. Loyalty' owned by M/s. Scindia Steam Navigation Company from Mumbai to London on 5th April 1919.
International Affairs:-
India's ranked the world's 7th largest tourism economy in terms of GDP, says WTTC
India's travel and tourism sector was ranked 7th in the world in terms of its total contribution to the country's Gross Domestic Product (GDP). According to a new report released by World Travel and Tourism Council (WTTC).Indian Govt. has made significant changes in visa facilitation which encourages international arrivals and thereby increasing visitor exports.
WTTC has forecasted 7% growth for the tourism sector in 2017 and thus visitor exports are expected to grow by 5.4%in 2017.
Panel set up by WTO to resolve steel dispute with India, Japan.
On April 3, 2017, the Dispute Settlement Body of World Trade Organization (WTO) agreed to set up a panel to resolve a dispute resulting imposition of safeguard duty on imports of Japanese steel products by India.
Indian authorities have put forth an argument that imposition of duties were warranted by the prevailing circumstances and is consistent with WTO norms.
Awareness Launched against the fake news spread global wise
As an effort to curb the spread of fake news and fabricated articles, leaders from Tech industry and academic organizations joined together with USD 14 million to create an awareness of news literacy and make trust in social media.The News Integrity Initiative will launch with USD 14 million from Facebook, Mozilla and others, based at the City University of New York's journalism school.
These organizations expose the plan of their latest step to control over the spread of fake news and create a positive approach of journalism over public on Monday.
National Affairs
9th India-UK Economic and Financial Dialogue held in New Delhi
9th UK-India Economic and Financial Dialogue held in New Delhi to combat cross border tax evasion, enhance cooperation in financial services and boost investments by encouraging Indian companies to raise funds through masala bonds which was led by Mr. Arun Jaitley-Finance Minister and UK Chancellor of the Exchequer, Philip Hammond.
National conference on Communicating India 2017
The national conference on Communicating India which was organized by the Vivekananda International Foundation in collaboration with the India Media Centre held in New Delhi on April 5, 2017.
The conference was one day-long conference was based on the three main themes-Telling India's story to the world, Communicating via Journalism, and Dialogue with Diaspora.
Banking & Finance
Aditya Birla Group gets RBI license
Aditya Birla Idea Payments Bank Ltd. Gets final license from Reserve Bank of India (RBI) for carrying out the business of payments bank in India and thus has become the seventhentity to receive the license.
Bitcoins are officially recognized by Japan as a currency from April 2017
The currency of the Internet, Biticoin which was recognized under new banking law of Japan but it is not a legally-recognized currency have now been recognized as a payment method by Japan with effect from its new fiscal year.
Sports
Virat Kohli named Wisden's Leading Cricketer in the World for 2016.
Virat Kolhi(Age 28) , A right handed Indian international cricketer was named as the Leading Cricketerin the Worldby Wisden India Almanack for the year 2016 .
Kohli also features on the cover of the 2017 edition of the Wisden Cricketers' Almanack.
Science & Technology
ClearTax.com becomes tech platform for GST
Clear Tax.com- Online tax filing portal announced that it has developed a technology platform to help businesses comply with the provisions of GST law.
It's a multi GSP (GST Suvidha Provider ) taxation solution and helps to monitor one billion invoices which will be generated once the GST comes into action.
Appointments & Resigns
India's first transgender police officer from Tamil Nadu
PrithikaYashini from Tamil Nadu become India's first transgender police officer .PrithikaYashini's application for the police post was initially rejected and tried hard to become the India's first police officer from the transgender
The Madras High Court has directed Tamil Nadu Uniformed Services Recruitment Board (TNUSRB) to appoint a transgender as sub-inspector of police.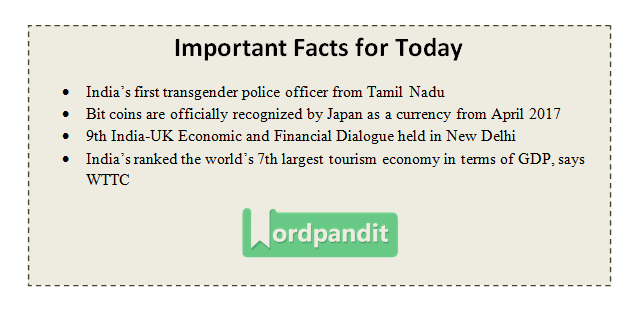 Related Posts