Daily Current Affairs 7 April 2017: Your guide for daily General Knowledge Preparation
Dear Readers,
This article, Daily Current Affairs 7 April 2017, includes all Major National, International, Business, and Sports events. A brief explanation of every current affair is provided to further enhance your general knowledge. Once you have gone through this article, that is, Daily Current Affairs 7 April 2017, we would recommend to you to try 7 April 2017 Current affairs test.
Important Days
World Health Day
World Health day is observed on 7th April since 1950 to celebrate it as the founding day of World Health Organization in 1948.
This year theme of World Health Day is Depression: 'Let's Talk'.
International Affairs
India has established 40th position in WEF's global travel and tourism ranking
Out of 136 countries, India has ranked 40th on Global Travel and Tourism Competitiveness Report 2017 published by
World Economic Forum (WEF).
As compared to previous year's rank this marks a meritorious jump of 12 spots.
India to be ranked 9th among 41 countries in corruption in businesses
As per the EY (Ernst & Young) Europe, Middle East, India and Africa (EMEIA) Fraud Survey 2017, India has got rank 9th out of 41 countries in bribery and corrupt practices in businesses. The ranking has improved marginally since 2015 in which India ranked 6th.
Improvement in India's rank has been attributed to an emphasis on transparency in governance and better regulatory scrutiny.
Ukraine, Cyprus, Greece, Slovenia, Croatia, Kenya, South Africa, and Hungary are having arank higher than India in this survey are:
Indian Affairs
Endayal Rasoi Yojana launched in 49 districts of MP
Shivraj Singh Chouhan-Madhya Pradesh Chief Minister has launched subsidized meal scheme at Rs.5 in Gwalior.
Under the Deendayal Rasoi Yojana scheme helps people to get economical nutritious and good quality food at cheaper rates. It is launched in 49 districts across the state.
Aadhaar to be mandatory for Income Tax returns
Aadhaar card is now mandatory for filing income tax returns as well as to getting PAN card through amendments to the finance bill 2017.
Section 139AA of the Income-tax Act, 1961 introduced by The Finance Act, 2017 which states that mandatory quoting of Aadhaar /Enrolment ID of Aadhaar application form, for filing IT returns and application for allotment of Permanent Account Number(PAN) with effect from July 1.2017.
Banking & Finance
India's growth speed up to 7.4% in 2017-2018
India recorded a remarkable growth rate despite the effect demonization which is of 7.4% in this fiscal year and it expects to be 7.6% in the next financial year. India's growth grew from 1% to 7.4%.
India is the fastest growing economy ahead of China mentioned by the ASIAN DEVELOPMENT BANK (ADB).
Business
Israel Aerospace Industries sign INR 200 billion arms deal with India
Israel Aerospace Industries signs largest arms deal in the history of Israel's defense industries which is of USD 2 billion/INR 200 billion with India.
Israel's willingness is to share technology and form joint ventures with Indian companies to develop and manufacture military equipment supporting the 'Make in India' initiative.
The deal made a USD 1.6 billion contract to deliver a medium-range surface-to-air missile defense system (MRSAM), and a USD 400 million contract for a long-range surface-to-air missile defense system (LRSAM).
Awards & Recognitions
64th National Awards
64th National Film Awards honoring best films and film related performances for the year 2016 were announced on 7th April 2017 which would be presented by Honorable' President of India at a ceremony which is scheduled to be held on 3rd May 2017.
A new category 'The Most Film Friendly State Award' has been included from this edition.
This inaugural award will be presented to State of Uttar Pradesh. The State of Jharkhand also got 'Special Mention' for State Govt.'s overall efforts in fostering the growth of film industry.
Appointments & Resigns
Vijay Goel consents appointment of Foreign Coaches in Athletics
Union Minister of Youth Affairs and Sports, Vijay Goel has approved the appointment of foreign coaches and support staff for India's athletics disciplines on April 6, 2017.
They will work with Indian team until 2020 Olympics which will be hosted by Japan and they will be subject to performance review annually.
Sports
PV Sindhu achieves World No.2 ranking
21-year-old from Hyderabad, PV Sindhu became the second Indian woman after Saina Nehwal to smash into the top-five of the world rankings by earning 75759 points.
Rio Olympics silver medalist P V Sindhu achieves a career-best world number two ranking in the latest Badminton World Federation (BWF) rankings list.
India's first Basketball School In Mumbai launched by NBA
US-based National Basketball Association (NBA) has launched its first basketball school in Mumbai, India on April 7, 2017.More schools will be opened in India and around the world in this year.
The school's syllabus has been framed by the NBA's Elite Basketball Development team with current and former NBA coaches, former NBA players, and player development experts
The school was opened as part of a multi-year agreement with India on Track (IOT).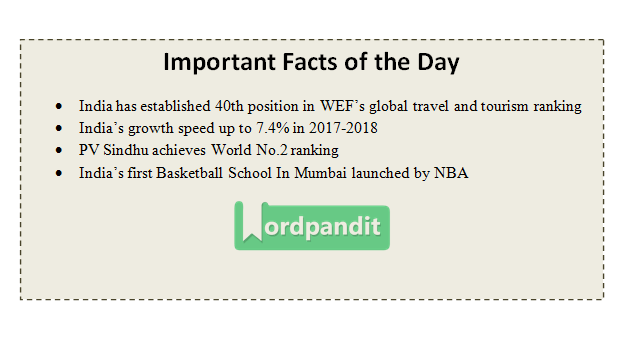 Related Posts