Daily Current Affairs 7 June 2017: Your guide for daily General Knowledge Preparation
Dear Readers,
This article, Daily Current Affairs 7 June 2017, includes all Major National, International, Business, and Sports events. A brief explanation of every current affair is provided to further enhance your general knowledge. Once you have gone through this article, that is, Daily Current Affairs 7 June 2017, we would recommend to you to try 7 June 2017 Current affairs test.
National News
1. India signs USD 39 million pact with World Bank.
India signed a USD 39.2 million loan agreement with the World Bank for the 'citizen-centric service delivery' project in Assam.
The programme size is USD 49 million, of which USD 39.2 million will be financed by the World Bank and the remaining amount will be funded out of the state budget.
The objective of the project is to improve access in the delivery of selected public services in Assam.
The programme's duration is 5 years.
Chief Minister of Assam – Sarbananda Sonowal
2. Government launches Skill for Life, Save a Life Initiative.
Union Health Minister J P Nadda launched the 'Skills for Life, Save a Life initiative to promote skill development in the health sector.
Under this initiative various courses are planned in specific competencies for healthcare professionals as well as for general public.
Through this initiative, trained and skilled personnel will be able to help save lives in the golden hour during an emergency situation.
3. Government to appoint Nyaya Mitras.
Government will appoint Nyaya Mitras across the country to expedite the cases pending for last 10 years in lower courts.
Retired judges will be appointed as Nyaya Mitras to expedite the over seven lakh fifty thousand cases pending across the country.
Ravi Shankar Prasad minister for law and justice in India.
4. RBI keeps repo rate unchanged.
The six-member Monetary Policy Committee of the Reserve Bank of India, headed by Governor Urjit Patel on June 7 kept the repo rate unchanged at 6.25%.
However Statutory liquidity ratio was cut by 50 basis points to 20%.
RBI sees inflation in 2-3.5 per cent range in the first half of the ongoing financial year and 3.5-4.5 per cent in the second half.
Governor of RBI – Urjit Patel
International News
1. Sher Bahadur Deuba elected Nepal's prime minister.
Nepali Congress leader Sher Bahadur Deuba elected as Nepal's prime minister for the fourth time.
He has become the 40th Prime Minister of Nepal.
The post of Prime Minister fell vacant after Maoist leader Pushpa Kamal Dahal 'Prachanda' resigned last month under a power sharing deal with the Nepali Congress leader.
He was the sole candidate to contest in the prime minister election as the main opposition UML or any other party didn't register their candidacies.
Capital of Nepal – Kathmandu
2. Montenegro Becomes NATO's 29th member.
Montenegro has formally become the member of North Atlantic Treaty Organization.
Montenegro has become NATO's 29th member.
Montenegro's accession completes NATO's presence along the entire northern Mediterranean coast, from Gibraltar to Syria.
The move has been seen by Russia as a threat to its own traditional sphere of influence.
Headquarters of NATO – Brussels, Belgium
3. World's First Hybrid 'Aeroboat' announced publicly.
The world's first hybrid "aeroboat" capable of travelling on land, water, snow and sand was unveiled in Moscow.
The aeroboat is designed to access difficult terrain, such as flooded or marshy areas where the use of regular boats is impossible.
It has been designed by IIAAT Holding, a joint venture between the International Institute for Advanced Aerospace Technologies and Indian firm Millennium Aerodynamics.
Business News
1. Merger between Aadhar Housing Finance and DHFL approved by NHB.
Proposed merger between Aadhar Housing Finance and DHFL Vysya Housing Finance has got the nod from housing finance regulator National Housing Bank.
According to the merger plan, Aadhar Housing will merge into DHFL Vysya, making it a pan-India company.
The merged entity will be financing affordable housing.
Managing Director and Chief Executive Officer of NHB – Sriram Kalyanaraman
2. Cadila Healthcare surpasses Lupin.
Cadila Healthcare Ltd overtook Lupin Ltd to become India's second most-valuable drugmaker.
With a market capitalization of Rs 55,000.57 crore, Cadila is now behind only Sun Pharmaceutical Industries Ltd, which remains the most valuable Indian drug firm with a market capital of Rs1.23 trillion.
Lupin Ltd has slipped to the third spot with a market value of Rs52,128.57 crore.
CEO of Cadila Healthcare – Pankaj Patel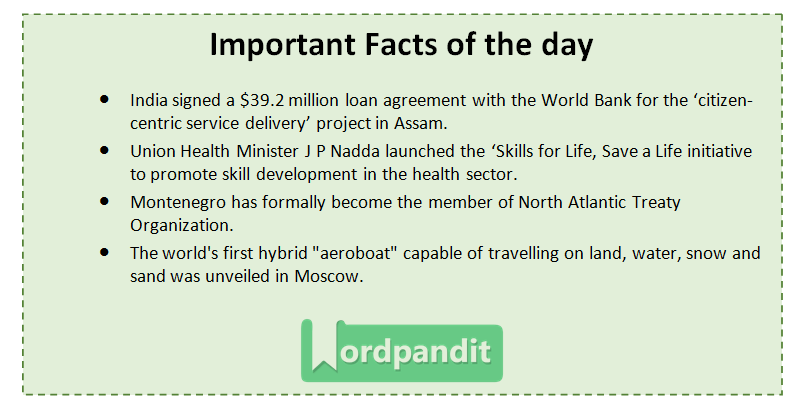 Related Posts