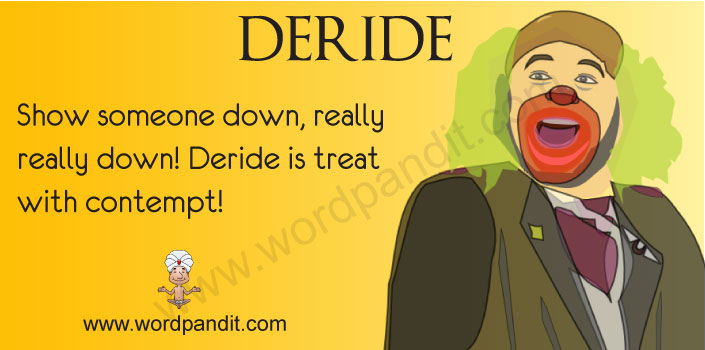 Oh! How you must hate the feeling of being laughed at even when in hearts of hearts you know that it's you who will have the last laugh! It is never a pleasant feeling to be derided or to be hated. And it is never a pleasant act to deride someone (that is pretty mean actually). Deride is this mean act of hurting others.
Origin: Its first usage dates back to 1520-30 and has originated from a Latin word deridere, which means to mock. It's a verb.
Pronunciation: dih-rahyd
Meanings of Deride
1) To laugh at someone with contempt/hatred
2) To mock someone
Master's tip to learn deride
Deride can easily be learnt by imagining a situation where you sit on that mechanical bull 'ride' and everyone is mocking you or making fun of you. So, you sit on a ride and you are de-rided for it.
Sentence examples for Deride
1) You have no right o deride my viewpoints. (Verb)
2) He is a derider for his friends too and he happens to derive lot of fun out f it. (Noun)
3) He deridingly looks down upon his juniors in office. (Adverb)
4) She was derided at for sitting on that joy ride. (Verb)
Want to explore more Words?