Locked in a fight you cannot escape?
In the midst of war-zone?
Struggling on all ends to keep things in control?
You are embattled, that is in the middle of a battle: Like the countless AFRICAN HEADS OF STATE are EMBATTLED at the moment, in a attempt to save their governments and power.
The dictionary definitions for Embattled are as follows:
1. Disposed or prepared for battle. (adjective)
2. Engaged in or beset by conflict or struggle. (adjective)
Masters tip to learn Embattled:
EMBATTLED = IN A BATTLE
Word in Context:
The following is an extract used for educational purposes: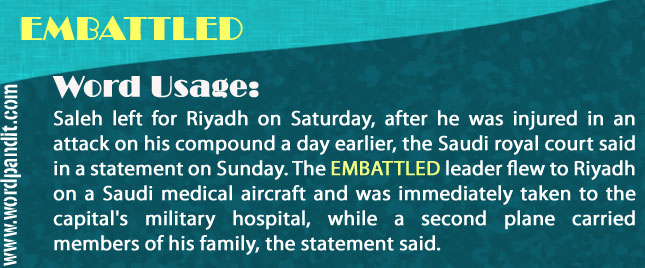 Read further on: http://english.aljazeera.net/news/middleeast/2011/06/20116583530542599.html
Want to explore more Words?