Welcome to General Knowledge @ Wordpandit
This section of Wordpandit has one simple objective: to help you with your General Knowledge needs for various competitive exams. From Current Affairs to Static GK, we cover the complete set of GK needs. Study the 'Wordpandit Way', absolutely free!
Extensive GK Coverage
Our extensive and multiple GK sections help you learn  facts and figures in a breeze and are perfect for your exam needs.
Latests Updates
Don't worry about updates. We are there for you with our updates for the latest news and events that take place around the globe.
Need to discuss something?
Need to discuss something? You can always leave a comment on the website or even better, drop us a mail.
Looking for some static GK tests? We have them for you.
Monthly Current Affairs Tests
We think of you
Wordpandit has been built keeping your needs in mind. The best test prep experts have combined to provide the best resources.
Made with Love
The most important thing: Wordpandit has been made with a lot of love. We do our absolute best to provide the best free prep available.
We have the key
Awesome content is a key to success, we make sure we provide with you the best and effective learning material.
Still not convinced?
Go through the following list of features and you are most definitely going to use Wordpandit:
Archive of Tests
Archive for Current Affairs Tests available.
Archive for Facts of the Week
Archive for Facts of the week for the complete year available.
1200+ Static GK Questions
900+ Current Affairs Questions
And we add 150 more every month.
This is not all!
This is only one section of Wordpandit.
We cover all areas of prep
All areas of Test-prep are covered by www.wordpandit.com
What have we been doing?
Go through our recent posts: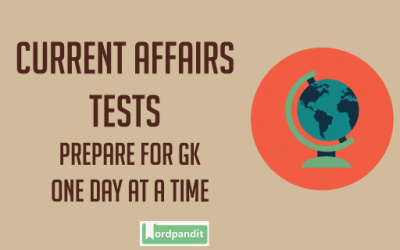 Current Affairs Quiz 29th 30th November 2020 Directions for the quiz: 1. This quiz, that is the Current Affairs Quiz 29th 30th November 2020, is meant to be a check for your learning and is meant to serve as a tool for assessment. 2. Current Affairs Quiz 29th 30th...
read more