Mnemonic tip for Hail:
HAIL MOGAMBO!
Yeh statement to har koi janta hai: hail mogambo,
bole to mogambo ki jai!
Yeh to ubiquitious statement hai Indian Cinema ki, ek aise statement jo koi nahi bhul sakta.
Waise movie ke context ke according, it should have been 'hai-hai Mogambo' and not 'Hail Mogambo'.
Hail bole to means praise/salute/greet in this case.
Meanings of Hail:
1. Precipitation in the form of spherical or irregular pellets of ice larger than 5 millimeters (0.2 inches) in diameter.
2. Something that falls with the force and quantity of a shower of ice and hard snow.
3. To pour (something) down or forth: They hailed insults at me.
4. Praise vociferously
5. Salute or greet. (Hail Mogambo)
7. Call for (Hail for a cab)
7. Be a native of (Hail from India)
Pronunciation: heyl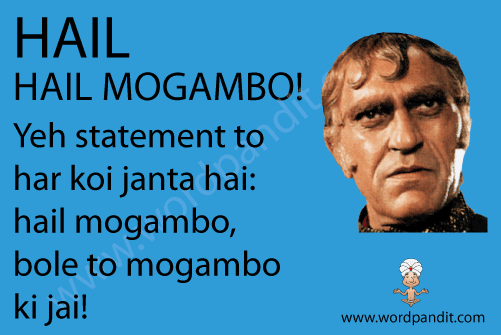 Want to explore more Hinglish Words?