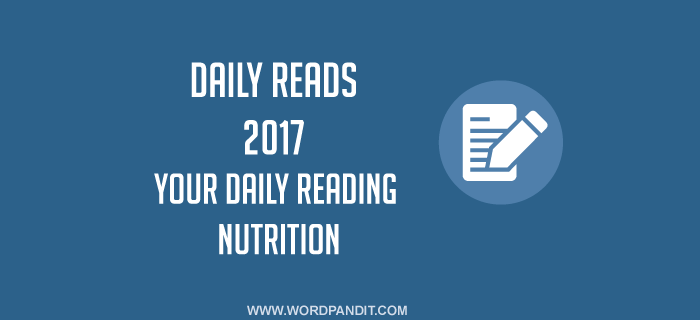 What is the 'Daily Reads' section?
The 'Daily Reads' section is exactly what the name suggests: a collection of articles that you should read for improving your English Language Skills. With a curated set of articles, you get access to the best of the world of publishing in a single place. Each post in this section contains recommendations for 3 articles.
The articles selected for this section undergo our curation tests. We make sure we do not select time-specific articles and are not related to specific news events. These articles are meant to serve two purposes:
Provide you material that makes you a better reader.
Help expand your knowledge by providing you diverse reading material.
How does this section help you?
Developing and expanding your ability to read is one of the best skills you can gift yourself. The skill of reading, in short, is empowerment. In fact, by being a better reader, you can significantly improve your ability to learn. But this is easier said than done. Just to help you out with this, with we have this section for this. With our expert suggestions, you can improve your reading skills significantly.
Why have we introduced two levels for this section?
All readers are not at the same reading level. Just to make sure we cater to all readers, we have these two levels. As a rough guide, you can the following exam-wise classification for these two levels:
Daily Reads (level-1): Bank PO exams, SSC exams, CDS, CLAT, etc.
Daily Reads (level-2): CAT-2017, GRE, GMAT, SAT, etc.
Four reasons why you should use the 'Daily Reads' Section
We provide you a list of daily reading suggestions.
You can improve your reading levels over a period of time.
We add to your knowledge base with our suggestions.
You develop much needed comprehension skills for life.